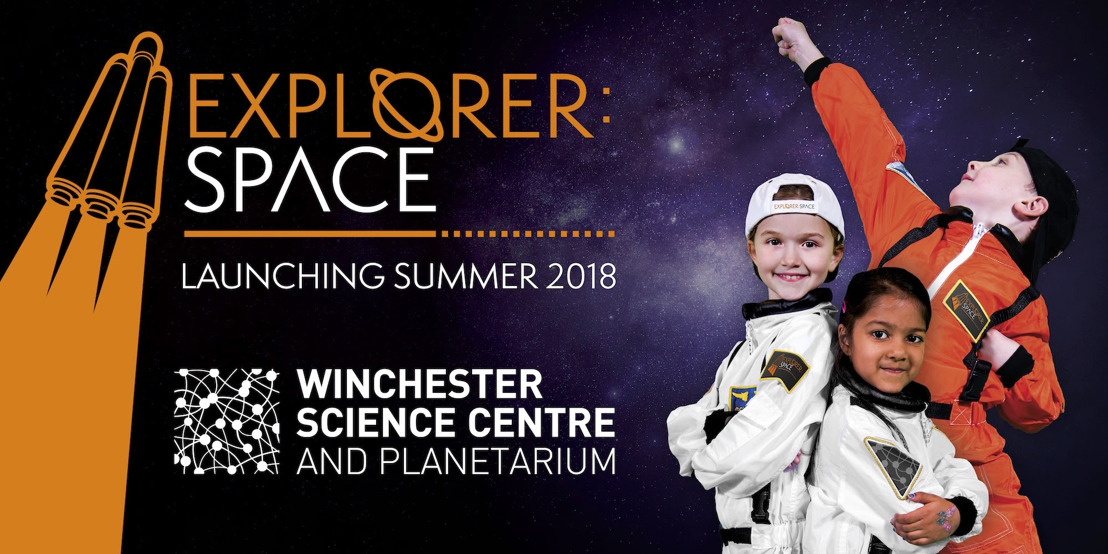 Explorer:Space – UK's Ultimate Space Adventure – Lands at Winchester Science Centre & Planetarium This Summer
Tuesday, June 26, 2018 — The Winchester Science Centre and Planetarium invites families to embark on a mission to tour the galaxy on-board Explorer:Space, a brand new 600m2 interactive space zone opening to the public on 20 July.
Explorer:Space is an immersive space experience that will take families on an epic adventure through the universe. This new, dramatic staff-led zone includes amazing hands-on exhibits, covering everything from meteorites to stardust, robots to coding and atmospheric pressure to human space flight.
"Explorer:Space is a permanent new addition for the Science Centre, designed to wow families and ignite their curiosity in space," said Ben Ward, CEO of Winchester Science Centre. "We've never had an exhibition like this before – the impressive set takes up the entire ground floor of the Science Centre and represents the biggest investment we've made since the opening of our planetarium in 2008."
To complement the new zone, the Science Centre's Curiosity Team will deliver space-themed activities and a brand new live science show, Destination Space, from 20 July to 03 September. Audiences will explore the story and science of satellites, complete with fiery demonstrations and bottle rocket launches.
A fantastic programme of 360° fulldome planetarium shows is also scheduled for the summer, including the new film narrated by Sean Bean, Faster than Light. Visitors can enjoy the sunny weather in the outdoor picnic and play area, which has direct access to the Magdalen Hill Down Butterfly Conservation reserve, offering amazing views of the South Downs National Park.
Explorer:Space and the summer holiday space-themed activities are included in the cost of general admission. The Destination Space live shows will run daily at 11 am, noon, 1 pm and 2 pm inside the Space Marquee – free tickets can be reserved online in advance. New prices from 16 July provide a 25% discount on general admission when booking online at least three days in advance.
To find out more and book tickets, visit winchestersciencecentre.org
Special Invite – Media Launch
Tuesday, 17 July, 4 pm – 6.45 pm
Members of the press are invited to attend the official launch of Explorer:Space by Michael Foale, the most experienced British-born astronaut in the history of human spaceflight.
To better meet your requirements, all interviews, filming and photography should be arranged in advance. Call Lisa Preston to discuss on 07980 923531 or email lisa@amplify-pr.co.uk.